The apartment I live in isn't particularly special in its layout, in fact it's quite confusing in many aspects. The kitchen is it's own room with a door, our unit runs almost entirely on one electrical circuit, and the balcony is only accessible through one of the bedrooms. Similar to other apartments in downtown Toronto, it has parquet floors, and is old enough that a permanent layer of dust seems embedded in the walls, which were painted through a process where if you add enough layers of paint, you can skip the step of patching up any holes. It was my apartment before it was our apartment, and although I guess now it's mine again, I can't bring myself to call it that just yet.
Sarah's Bowl sits in the middle of the coffee table in the living room of our apartment. As an object, It holds and contains items the same way as the apartment does, but it's composition, built from fragments of glass; is indicative of how the space it's in holds more than just objects; also memories, conversations, laughter, and tears. Made with multiple sizes and methods of glass, this bowl contains larger pieces, sections where chunks are collected together, and in other places uses pieces intentionally placed to create new shapes, chosen to communicate something larger than they did on their own; as the things that make up our living room do too.
With west facing windows, a flush of fiery orange fills the apartment when the sun is on it's last few hours, causing the entire living room to glow. This process enhances Sarah's Bowl, causing the glass to seemingly glow in the light. There's this sense of motion to its vibrancy, and it is as if it radiates to life. The colours Sarah selected are highlighted here, the translucent pieces transform into a new hue, while the opaque pieces absorb the light that touches them, swelling as if once again in the kiln, flowing into a new form. This is especially evident in the orange parts, which Sarah herself said was a surprising choice made after our workshop. After the sun has gone down, the orange pieces keep this glow alive, the one you find behind your eyelids when standing in the sun.
Despite a closed off kitchen, the living room has an open concept, one long stretch from the front door to a big window which takes up most of the back wall. Framed by sheer dark purple curtains, two frames split it in half, and despite its size, only the bottom quarter on each side can open. In between this and the coffee table is our once hot pink radiator, now only visible through cracks from the peeling paint placed on top. Our two plants sit on a red table to it's left, moved there from the coffee table previously to make space for the bowl. Ernie the African Violet was a gift from two friends after Sarah's first surgery, given along with his name, as one of them also had an African Violet named Burt. Over the years Ernie's become symbolic, often flowering at the exact times we needed a bit of joy. In the days leading up to Sarah's move into Kensington Hospice, despite it being early November once again Ernie bloomed. Accompanying him and Jack, an aloe plant, are three new plants, including a succulent named Charlotte; inspired by a joke we had that's far too long and not nearly funny enough to explain. It seems like Sarah is connected to them, as Charlotte has been growing at an impressive rate compared to her "cohabiplants", and just recently, after a particularly rough week, Ernie has started to bloom again.
During the day I often play music to drown out the silence, and sometimes will find myself inside of a song. Two major surgeries and a long term chemo schedule couldn't stop our favourite hobby of experiencing our favourite artists live, and in the twenty five or so shows we planned to attend after her diagnosis, I think Sarah only ended up missing two. The first one was right in the beginning. Although we had no confirmation yet, she was way too sick to make it, and I didn't feel right trying to go without her. When Two Door Cinema Club came back in the fall of 2019, we didn't hesitate about going, and although we didn't know it at the time and it certainly wasn't our plan, that was one of the last shows we went to, at another room in the city with coloured lights.
Some songs bring me back to sadder moments, and the spaces they happened in still remain in my head clearly. Father John Misty's Hollywood Forever Cemetery Sings somehow smells like the hospital waiting room where Sarah's first biopsy was, and feels slightly green, how the walls appeared under painfully bright lights. Maybe one day I'll hear it without getting that gut feeling from trying not to cry, although lately I wonder if I'll ever not feel the need to cry from a lot of things. One of the many pictures we took together during a concert sits on the side table, between our couch and my bedroom door, and beside it is a box of batteries and some maple candies, still in the exact spot Sarah left them. I wasn't consciously keeping them, but it's five months later and they haven't moved. As objects, they're meaningless, but they reflect the impact of her absence; lately it's too much to think about moving them. This room already exists in so many new ways.
Physically, losing Sarah feels like I've lost a piece of me, that I can't stop myself from looking for despite knowing it's just out of reach. Maybe it's not just the living room that feels heavy. We lived together, and that makes part of our home painful, especially because this is where things really declined. It is the place where she got into bed one night and never got out on her own again, but more importantly it's the place that she got to live in, where we planned for the present rather than a future, hosted friends and family, watched movies, and heard new albums for the very first time. It's where our dogs came to visit, where we organized vacations, laughed about the little things and cried about the big ones.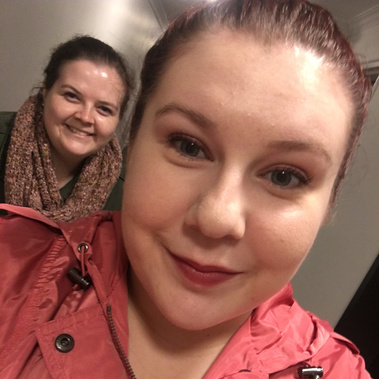 Our apartment is something that only belongs to me in this loss, and it's a reminder of the fact that I was just as important to her as she was to me. It's a reflection of her, but also a reflection of every experience we shared, and the fact that we chose to do it all together. One last tangible connection to my old way of existing, the painful realisation that I can only exist in an entirely new way now has been a hard one to accept. While Sarah's absence enhances everything I experience within this space, it will also begin to change it, through the removal and addition of furniture, after I move into the bedroom that used to be hers because letting someone else live in it doesn't feel right, and in response to the new ways I have to live now. But her presence is here, and will always be part of the living room and apartment as a whole. Our relationship continues in all of the memories I have here, and each memory functions as a site on it's own.

My relationship to our apartment is connected to the relationship I had with my sister, and the way I feel and function here is rooted in all the things we did together, the experiences we had, and how they felt. Although she may not physically occupy the space with me anymore, Sarah is here with me because the memories that live with me in our apartment allow our relationship to continue.